More Information: Race Information • Tickets • Places to Stay
If you need an address to plug in to your GPS app, you can use:
101 riverfront drive augusta ga
This will get you to the race site area. From there you will need to follow signs for parking.
Use the google map below to get driving instructions to the race site and the Night of Fire @ Augusta Commons. At the bottom of this page are a list of driving instructions too.

View ASN – Augusta Ga in a larger map
From south of Augusta – take Highway 56 instead of 221. Hwy 56 (Mike Padget Highway) goes through Waynesboro and comes straight to Augusta. From Hwy 56 take eastbound Bobby Jones Expressway to Sand Bar Ferry Road. Turn left onto Sand Bar Ferry Road. The Augusta Marina is approximately 1 mile on right…. the signs are posted at the entrance of Prep Phillips Drive for patron parking and on further (turn right at the red light) the regular walk in entrance.
From the west (Atlanta) – drive straight down I-20 to Augusta. There are two exits that will send you to the races: Washington Road or Riverwatch. If you take the Washington Road exit turn right onto Washington Road (don't know the exit numbers sorry). Follow Washington Road to the end. Washington Road changes names two times – first to John C. Calhoun Expressway which then turns into Greene Street. Follow Greene Street approximately 12 blocks til it deadens into East Boundary. Turn left. The Augusta Marina is straight ahead… you can't miss the signs.
From South Carolina – take I-20 to Martintown Road exit and follow Martintown Road to US 25. Take US 25 to Georgia, take first exit to Broad Street, turn left on Broad Street and follow to you see signs showing Augusta Southern Nationals – Augusta Marina off Sand Bar Ferry Road (which intersects Broad Street). If you coming from the Atlanta direction, stay on I-20 to Washington Road, turn right on Washington Road. Stay on this road till you get to Sand Bar Ferry Road (Washington Road will change names to J. C. Calhoun Expressway and then to Greene Street). Stay on Greene Street til it deadens into Sand Bar Ferry Road, turn left. This road takes you straight to the first entrance to the Marina. If you turn right onto Broad Street it will take you to the Patron Parking area.
Once you get to the East Boundary and Broad Street Intersection, you should see the Marina and the Walk in gate. The Patron gate (must have Patron Badge to get in here) is just around the curve next to Riverfront Collision Paint and Body.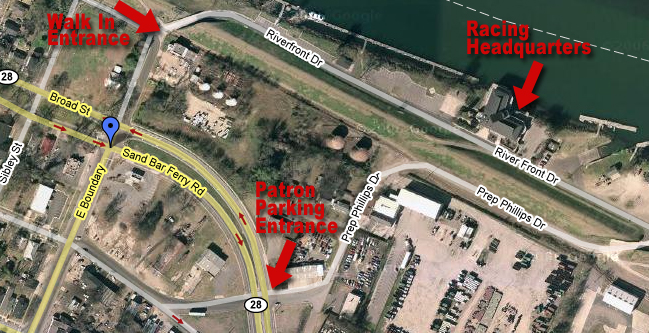 More Information: Race Information • Tickets • Places to Stay